Washington quarters (1932-1964)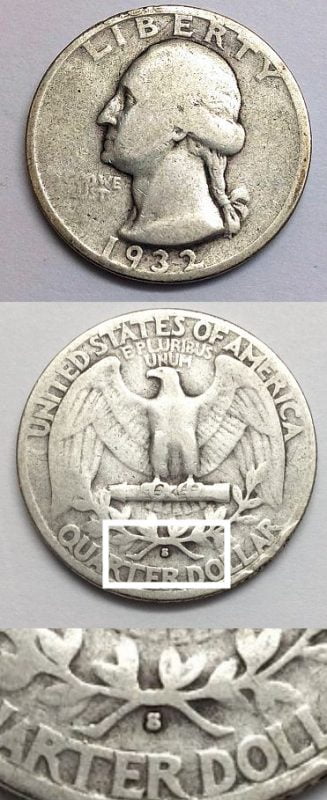 Just like Roosevelt dimes, Washington quarters are still used in today's currency. Also like the Roosevelt dimes, only quarters from 1964 and older are 90% silver and are worth much more than face value.
The mintmark for this quarter is located on the reverse of the coin, beneath the wreath and above the "R" in quarter. Key dates to watch for on these coins are 1932-D and 1932-S.
Standing Liberty quarters
(1916-1930)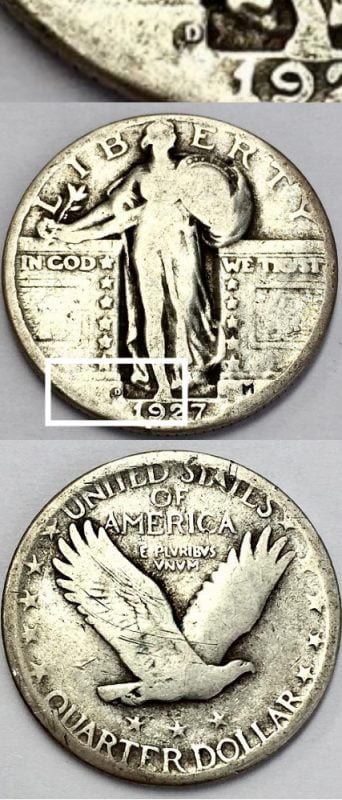 This 90% silver quarter has a mintmark location that is on the obverse of the coin, near the bottom, just above and to the left of the date.
Key dates to look out for include 1916, 1918-S 8/7, 1919-D, 1919-S, 1921, and 1923-S.
Barber quarters (1892-1916)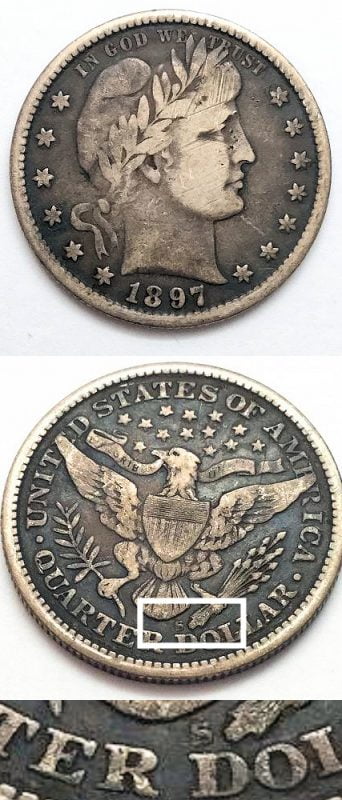 The mint mark for these 90% silver quarters is located on the reverse under the eagle's tail. Key dates to look out for include 1896-S, 1897-S, 1901-S, 1913-S, and 1914-S.
Much older quarters that are less common include the Liberty Seated quarters from 1838-1891 and the Capped Bust quarters from 1815-1838.
Liberty Seated Quarter
( 1838-1891 )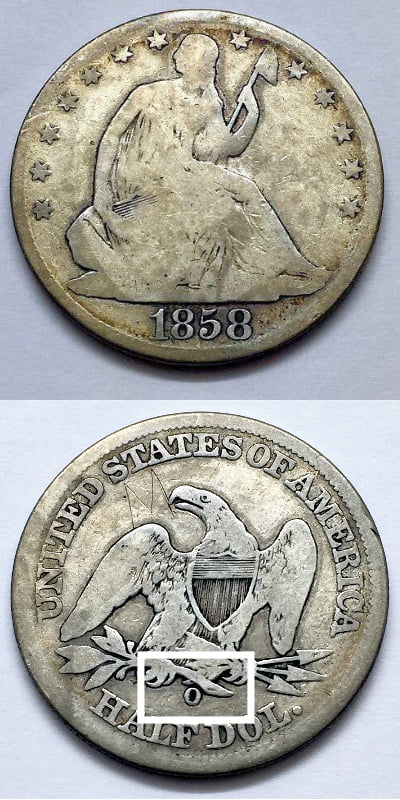 Liberty Seated quarters come in many varieties from 1838-1891. There are several varieties that exist for these quarters because of the design changes in the drapery, arrows, motto, and rays.
Type 1, No Drapery (1838-1840)
Type 2, No Motto (1840-1865)
Type 3, Arrows & Rays (1853)
Type 4, No Motto, Arrows at Date (1854-1855)
Type 5, With Motto (1866-1891)
Type 6, With Motto, Arrows at Date (1873-1874)
As with many coins, the value depends on several factors, including key and semi-key dates. For the Seated Liberty quarter, at the higher grades almost every date is of value with the key dates being worth tens or even hundreds of thousands of dollars, some dates to look out for are the following: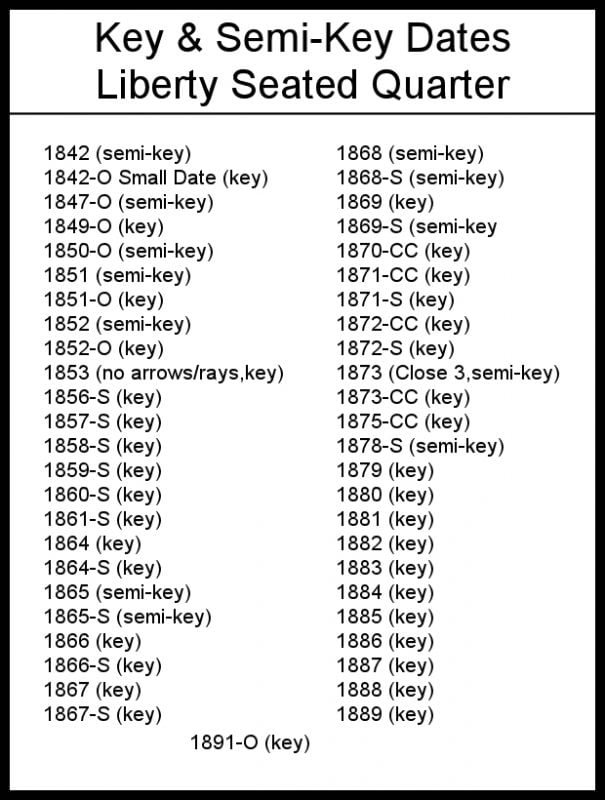 Capped Bust Quarters
(1815-1838)
The Capped Bust Quarter first appeared in 1815, and it is important to note that the Capped bust quarters come in two types: Type 1, Large Size from 1815 to 1828 and Type 2, Small Size from 1831 to 1838. The first type has generally lower mintage numbers than the second type.
There were a few gaps in the series where coins were not minted at all, as in the years, 1816, 1817, 1926, 1829, and 1830. It has been reported that only 4,000 coins were minted in 1827, but none of them are known to exist; the 1827 Capped Bust is a major rarity in both proof and/or re-strike. PCGS reports about one dozen original 1827/3 proofs and 20 re-strikes as far as mintage. Another very rare date for this coin series is the 1823/2 (with the 3 over a 2).
Although there are several dates within this range that are rare, these two dates are considered a major rarity! Relatively low mintages were the norm for this series. In key dates of higher grades many coins in this series have a high value, but some semi-key dates also worth noting are:
1815
1822 (25 over 50 cent)
1824 (4 over 2)
1825 (5 over 2)
1825 (25 over 50 cent)
1828 (25 over 50 cent)
Thank you for reading this second installment of our multi-part coin blog series! If you have any of these coins, and would like to get a free estimate, please call us at (845) 228-4653 .