Current gold prices are hovering around $1900; up by a large percentage from this time last year! There is no better time to start cleaning out and selling your old jewelry or coins. Items that are broken, mismatched, unworn or just laying around in your jewelry box are worth more than you would expect – you may be pleasantly surprised by how much a single earring, that broken necklace or bracelet could be worth!
Gold jewelry comes in many different karats; the higher the karat, the higher the purity and the more value it has. For example, 9K is sometimes marked .375 (37.5% pure) and is not typically used in the United States, but often comes from Ireland or other European countries. 10K is sometimes marked .417 (41.7% pure) to indicate the purity and is more widely used in the U.S. than 9K. Many high school and college rings, for example, are 10K gold. 14K gold is often marked .585 (58.5% pure) and typically the purity that many people buy and sell in the United States. 18K gold is marked .750 (75% pure) and is more common in Italy and other parts of Europe, where they often use a fineness mark instead of karat. Portuguese gold is 19.2K or .800 (80% pure). Indian gold is known to be of a higher karat and comes in 22K marked .916 (91.6% pure) and sometimes 24K. 24K (pure gold) is often too soft for use in jewelry. China and India are the countries that we usually see the highest purity gold come from.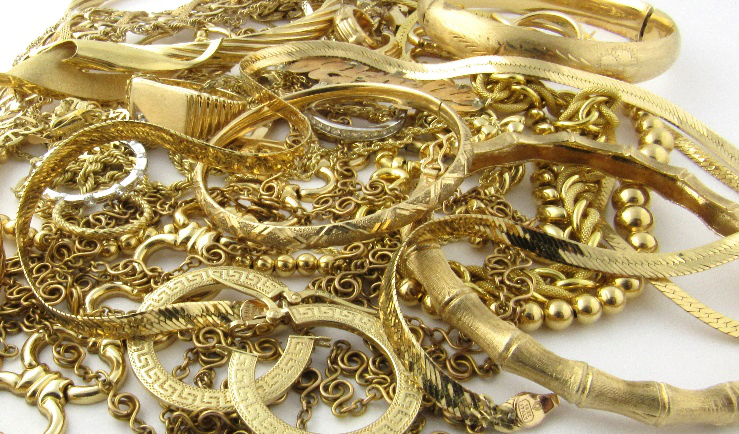 Call for a free evaluation today!
We are adhering to all social distancing rules and guidelines and are only allowing one customer in our locations at a time. We are sanitizing between customers and have a large plexiglass partition as added protection. We are accepting walk-ins at this time – if you need any additional information, please contact us at (845) 228-4653 . We look forward to hearing from you!